Lots of people think that a garden just isn't complete without a water feature. Be it a birdbath, fountain, or even a small pond, water adds sound and movement to landscapes.
What a lot of people don't know is that new solar-on-demand technology means it's easier than ever to add a relaxing water feature or a dramatic focal point with solar.
And Why Choose Solar for Your Water Features?
Water Gardens Don't Need This Much Stone (or Work/Money) to Add Wow to Landscapes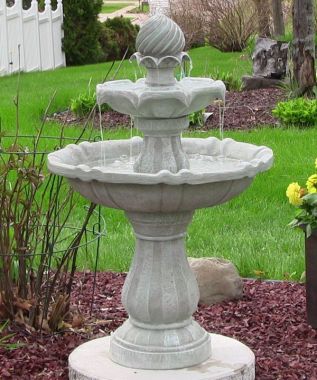 Stand-Alone Fountains Add Movement, Sound
There are lots of good reasons, including lessening impacts to the global environment and your own property. In addition, solar water features usually are far more flexible than their low-voltage counterparts, cost less to operate and there is virtually no risk of electrical shock. There are a lot of products out there, and a variety of prices.
Solar Pumps: Lower Operating Costs, Less Environmental Impacts, Less Disruptions to Your Landscape than Most Traditional Options!
First, the up-front costs of solar vs. electrical or battery powered water features are comparable, but solar products mean you can relax to the soothing sounds of water without having to worry about your electric bill! 
Here are some other reasons why solar water features are such good options.
Traditional Electric Pumps:
You do have choices with electrical pumps:
Placing the fountain near an existing outdoor power supply and watching out for the cords when you do maintenance
Installing an underground power supply, costly in itself let alone fixing disruptions to impacted landscape
Installing a transformer system, which often can require ugly conduits.
In contrast, most solar water features can be installed in minutes without disruptions to lawn, gardens, or hardscape
Sunshine is Needed for ALL Solar Products, But Options Mean Flexibility
It is true that several hours of daily direct sunshine are needed for pumps to work effectively. Most of today's solar pumps for ponds and stand-alone fountains have cords (and optional extension cables) that let the solar panel to be placed 10 to 30 feet away from the pump.
This lets you place the pump or fountain where you want it, as long as the solar panel is in direct sun for several hours a day.
Today, "Solar-On-Demand" Often Commonplace without Extra Cost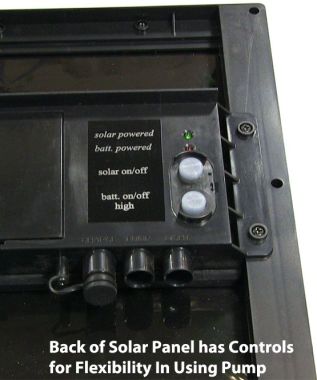 Controller Lets You Decide How the Pump Will Be Used
Some solar water fountains have panels discretely incorporated into the design. This means the unit is self-contained; the only downside is that they must be placed in an area that gets a lot of sun.
Others solar water fountains have solar panels that can be set several feet away from the fountain, with a cable connecting the two. This allows you to place the panel in an area with lots of sun, and the fountain itself in an area with partial or even full shade.
Not only can the cable easily be covered by mulch or hidden by pants, you can easily move the fountain around.  This flexibility is a great bonus if your landscape has different focal points through the garden season, or if you just want to experiment to find out where it looks best.
Many traditional fountains also require an independent source of water. This means the added cost and disruptions for plumbing to provide water to the fountain. In contrast, solar water fountains usually have reservoirs of water continuously circulated by an internal pump. They're easy to install on your own, without plumbers or electricians.
Have a Great Patio, Deck or Walkway but Something's Missing?

One of our friends has a hardscape business and one of his biggest complaints is that customer often don't think about, or don't want to pay for lighting or other features when they originally design and contract new terraces, cobblestone walkways/driveways or stone walls.
Once they see how nice the project looks, usually well into construction, they decide that lighting or water features would really showcase the new stonework or to add a finishing touch.
Depending on how far the project has progressed, solar is a great alternative for lights and water fountains: no change orders; no additional permitting; and redoing work already completed to accommodate electrical supplies or plumbing.
Variety: You Bet!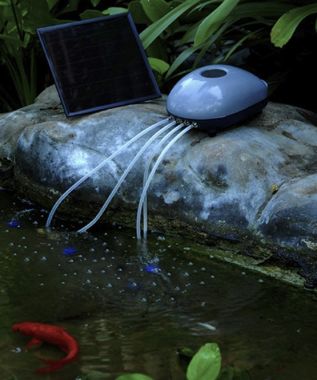 Solar Oxygen Pumps Can Add Oxygen by Day AND by Night, when Oxygen is Not Added Naturally through Photosynthesis
Solar water fountains and other water features come in a variety of choices. Some are stand-alone fountains and many are combination birdbath/fountains. 
Other are specifically designed to go into a body of water.  And a body of water doesn't necessarily mean a pond.  Lots of solar water fountains can be placed in a large container, such as a planter with the drainage hole sealed.
Solar water pumps not only circulate water, many have a variety of fountain heads and lighting features to show-off your pond at night.
Solar features can add oxygen to your pond, often necessary to maintain the health of your water garden. While plants produce oxygen during the day as a part of photosynthesis, at night plants actually suck oxygen from the water, inviting trouble.
Batteries: Key Factor in Cost and in Performance

While there is a lot of variety in solar water pumps and solar water fountains, whether or not solar water features have batteries is something you should look for.
Below are two solar pumps that are very similar in appearance, but work very differently.
| | |
| --- | --- |
| | |
| With Batteries: $229.00 | Without Batteries: $199.00 |
While solar pumps without batteries are great options for those with limited budgets, we recommend that you purchase a pump with a battery whenever possible. Here's why:
Pumps without batteries only work when sun shines directly on the solar panel. If it's cloudy, rainy or even if a single cloud passes, the pump will stop working.


In contrast, when placed in a good sunny location, most solar pumps are programmed so that they simultaneously power the pump AND store energy in the rechargeable battery.

The extra energy lets the pump stay on when clouds pass for uninterrupted operation. You can also program most pumps to work between 1 and 4 hours (depending on model) at night. This is one way to reduce mosquitos which often breed at or shortly after dusk. But: mosquitoes can only breed in still water. If your water is moving, they'll breed elsewhere.

Often called "solar-on-demand" pumps (whether they're small stand-alone fountain pumps or large pumps for ponds), you also can choose to turn the pump off to conserve all of the energy for specific times. This is a great way to make sure that your pump will work at a specific time: such as when you are having company over.  
How to Know What Size Pump You Need
For solar pond pumps, the size pump you need is determined by how you will use it.
If you want a pump to move water to keep it from becoming stagnant or add oxygen, you want to look at the pump's circulation capacity, noted in our product descriptions as "Gallons Per Hour" capacity. Sometimes, you'll find that one large pump works best, other times it's better to have two smaller pumps: especially if you want to make sure that one pump ALWAYS works the maximum amount of time at night.
Our Calculators Can Help!
How long products will work on stored energy in the battery depends on many factors: battery size, average daily sunshine, and whether adjustable pumps are set at the highest setting (least amount of reserved energy) or at lower settings.
When it's a close call as to what pump to get, we recommend getting the larger one, if it's in the budget. This will let you run adjustable pumps on lower settings: meaning adequate solar energy goes to the pump, but more power is stored in the battery for when the sun isn't shining. charge should last.
Other advanced features: pumps with batteries and on/off switches that let you decide when to use the power. Some even have timers so that you can program them to work at pre-determined intervals each day.  This is great to maintain the health of your ponds when you are on vacation.
If you see two products that appear to be very similar but one costs more than the other, make sure you read the product description carefully to see whether the products do or do not have battery. And all solar water features should note that a pump is included because it's an added benefit with an extra cost.
If you have a significant investment in fish or plants, protect your investments by buying pumps that work at night, when photosynthesis stops and extra oxygen may be needed for health ponds.
If you don't need or want fountains or pumps to work at night, you'll be fine with the lower priced model. But if you want to know that the fountains will be working during evening events, pay the extra money for the models with batteries.
Copyright 2015 SolarFlairLighting.com. This is update of article originally posted on our external blog in February 2012. This post (including any text and/or graphics) may not be used without the express written permission of a representative of SolarFlairLighting.com.