Even though there's still plenty of summer left, dawn is already coming later and the sun is setting earlier.
Since there's still lots of hot weather and good boating ahead this season, late summer and early fall are great times to consider adding solar marine lights, maybe even more so than in June when the days were still getting longer.
Solar boating lights are easy, DIY ways to enhance the safety of waterways, waterfront areas, and some times even right on the boat or watercraft. We have navigation lights and lights specifically designed for use on docks, piers and waterfront property.
This post covers:
Good solar lights (and this post does highlight some differences between a good and a lousy marine light (solar or otherwise), why not make your waterfront areas safer and more attractive for early morning fishing, night-time cruises, or just cooling down near the water. 
Others may have found out that boat lift batteries need a bit more power to work effectively. Solar chargers can make sure your boat lift is always ready to go when you are.
Smaller chargers can trickle charge engine batteries to help boaters avoid the cost, hassle and embarrassment of having to radio the Coast Guard or a private service for a tow if your battery can't start the engine after a few hours of swimming or fishing.
What to Look for In Solar Marine Chargers
A solar charger meant for waterfront use should be designed different. The engineering and construction should take into account the harsh conditions of on- or near-water sunshine, wind, and temperature extremes.
Our solar marine chargers offer long-lasting quality and choices:
Several strength models for both 12 and 24 volt systems
Solar panels designed for sunlight intensified by water reflection
Marine Grade Aluminum frames, trays and mounting arms
Water-tight wiring systems and controllers
Different types of battery trays, or no tray at all
Optional panel arm height so that your solar panel is high enough to avoid shadows from other boats, trees or nearby structures
Battery indicator, charge regulators so you know how much energy is in your battery, how quickly it's charging, and overcharge protection
What to Look for When Selecting Quality Marine Grade Solar Lights
Are all solar marine lights or solar marine chargers equal?
No, and don't just compare prices because we've seen knockoffs (see graphics below) of many marine solar lights we carry. MSRP does not always indicate quality, especially if the manufacturer is trying to trick pass off their copy as the real deal.
That being said, good marine lights cost more than lights for the average backyard because the materials and engineering to make them survive season after season cost more.
Things important to long-lasting, reliable solar marine and boat lights include:
Marine Grade Anodized Aluminum, rather than low-grade polished or oil finished aluminum means salt and acidic water will not erode housing or components
IP 68 waterproof rating to withstand even the biggest splashes or waves of salty or often acidic fresh water
Highly UV stabilized polycarbonate (PC) withstands sun, temperature extremes far better than cheaper polypropylene (PP)
Quality solar panels that are designed to absorb maximum sun and not crack or crumble in harsh sun or temperature extremes
Powder-coated (baked on finishes) instead of paint for long-lasting good looks
For big-ticket marine lights, look for Lithium Iron Phosphate batteries, which perform better in temperature extremes
Adjustable levels of brightness, so you can easily set the light to provide true dusk to dawn illumination
Many of the things that make marine lights great for on the water also make them great choices for use in desert areas where strong sunshine and dust/sand can take their toll.
See For Yourself: Side by Side Comparison
The following two graphics compare our marine solar lights to similar models by competitors. Since our manufacturer released both lights first, it's fair to call both lights knock-offs.
Though the competitor's MSRP is higher than our prices, this is one example where you can't let the price or the photos fool you.
Solar marine lights are used for navigation and waterfront safety. Take the time to read the detail product features/specifications provided in the store's product description.
Since you can't touch the lights, you have to read the details to know what materials are used, the strength of the solar panel, LEDs and batteries, and other things that let you accurately compare products.
Even if you think you're buying the lights you saw in person, you still have to be careful because knock-offs can be hard to tell from the real things. The devil is always in the details.
Comparison: Our Solar Deck Lights vs. Competition
Features:
Features:

Low-grade aluminum with oil/polish will quickly rust in salt-air or around salt water
Batteries cannot be replaced; unit must be replaced
Inefficient and cheap solar panel cracks in extremely high or low temperatures
LEDs blink when battery runs low, unreliable light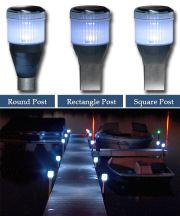 Here's another solar marine light that we carry compared to that of a competitor.
Again, the two lights look virtually identical and if you were to see the photo only, you might just go by the price.
But, the materials of the lights, how they work, and how on what types of posts they can be mounted is very different. 
Side by Side Comparison of Solar Dock Lites for Post Mounting
Features:
Features:

Solar Panel Looks and Performs Better

Lens effect allows extra power for off-peak charging hours
3 Times more
Silicone gel panel withstands thermal expansion

Options: Available for square, rectangle or round posts
Illumination 4 Times Brighter

LEDs 20 times larger
Larger battery and stronger panel means longer run times

Pane/Lens

High UV stabilized polycarbonate lens holds up to sun and temperature extremes without yellowing or cracking

Cheap Solar panel is Less Efficient, Less Attractive. Unlike many solar lights, these solar panels are highly visible due to their height

Solar Panel with shoddy lens effect reduces charging power up to 40% during off-peak sun hours
Epoxy panel cracks, is damaged by thermal expansion when temperatures change

One size only: does not fit square or rectangular posts or 2-inch post commonly used near Great Lakes area
Light shown is after the same charging time as our light, and the different illumination is clear
Pane/Lens

Cheaper polypropylene (PP) pane/lens yellows and rots / crack / crumbles quickly in strong waterfront sun and salty or acidic humidity
We hope this post helps you understand some of the things to look for when comparing solar marine lights: either when choosing between the ones we carry or comparing our lights to those of our competitors.
If you have any questions about our products, please contact us. Along with making recommendations as to what is best for your lighting needs and budget, we often can provide additional discounts, especially when products are purchased in bulk.
Copyright 2015, SolarFlairLighting.com; all rights reserved. This post and its content may not be used in whole or in part without our express written consent.